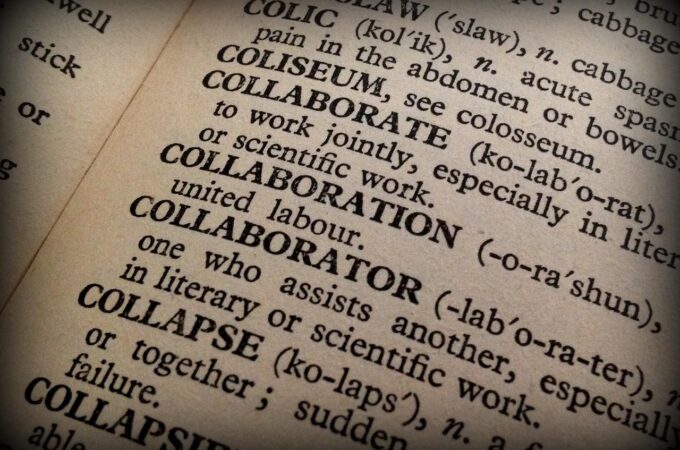 How to Creatively Collaborate as an Indie Author
As the old saying goes, no man is an island. That applies equally to authors.

The writing life can be a lonely one, especially when you choose to self-publish. Although as writers we often do a lot of our work alone, it doesn't mean we need to be lonely.

Self-publishing sometimes gives the impression that it's down to the author to do every last task related to their book, from writing it through to executing a marketing plan.

While some authors do choose to remain hands-on for almost every part of the process, you don't have to if you don't want to.

The path of an indie author is full of opportunities to reach out and work with others. Here are four of the best opportunities to collaborate with other creatives.
Coauthoring a series
Fiction and nonfiction authors alike can team up with other authors to work on a series together.

Although it's relatively rare in the mainstream author word, big-name collaborations do take place. Stephen King's joint novels with Peter Straub spring to mind.

But indie authors have a lot more freedom to coauthor and collaborate as they please. There are no complicated publishing contracts to navigate. If two self-publishers want to work together, they don't need anyone else's permission.

Working with another author has a lot of benefits. You gain exposure to each other's audiences and get to bounce ideas off one another and hopefully achieve a kind of synergy.

Any partnership of this kind should be carefully thought out from the get-go. It should be a natural fit that would be appreciated by each other's readership. There also needs to be very clear expectations in place for ways of working, how to communicate, who is responsible for what, and how revenue will be divided up.

If this idea excites you, take action! Brainstorm a list of indie authors you would love to work with and make a plan to reach out and start writing books together.
Partnering with a visual genius
While some authors are blessed with both written and visual talents, many are not!

Sadly, some authors underestimate the importance of having top-quality visual content and do a halfhearted attempt themselves, thinking no one will care. That's why you often come across respectably well-written indie books that have simply atrocious covers.

If you're the kind of author who lives to write but isn't blessed with visual creative ability, don't hesitate to reach out and find a graphic artist to work with.

You want to find someone who has experience with the type of project you are working on. A talented book cover designer is a great choice, for example, but an even better choice is one with experience in your specific genre.

When you find the right graphic artist partner, you should feel a sense of excitement. Hopefully, you have compatible creative energy that allows you to get on the same page and share an artistic vision for your book project.
Finding your divine editor
As Stephen King said, "to write is human, to edit is divine".

Take the time to read the acknowledgments page for any successful book and you will notice that the book's editor often receives warm praise.

Editors help books be the best they can be. They spot blindspots in an author's work that would not have otherwise been identified.

If you're new to working with an editor, you might feel a little intimidated at first. That's understandable. It takes a while to develop a thick skin as an author and open up your work to being seen and criticized by others.

But when you find the right editor, a certain magic happens. They can make your book shine and improve the experience your future readers will have.

Also, for self-publishers, a lack of quality editing is one of the fastest ways to come across like a complete amateur. If you want readers to focus on your message, rather than typos or grammar errors, you can't afford to be without an editor.

It's worth taking the time to get familiar with the different types of editing out there, and with the average amounts they cost. Also, start a dialogue with particular editors and get examples of their past work. It's important to have a good working relationship with your editor, so they should be someone you enjoy talking to.

Marketing partnership
The vast majority of indie authors, especially new ones, seem to find marketing to be either intimidatingly difficult or overwhelmingly unenjoyable.

One of the best ways to help with both problems is to team up. Marketing doesn't have to be something you do alone, and you certainly don't have to make all the mistakes yourself. Learning from others is a fun and effective way to advance your skillset.

Collaborating with other indie authors on marketing can be as simple as sharing tips and experiences in a group, or as involved as putting together a complex joint marketing strategy and proactively promoting each other's books.

If you decide to team up with another author for marketing purposes, you should make sure that there is a good fit between your circumstances. Hopefully, you write in a similar genre or serve a similar audience. It also makes sense to be roughly as popular as each other, as otherwise, it will be an asymmetrical partnership that serves one author better than the other.
Where to find collaborators
So, you're feeling excited about the idea of teaming up and taking on the indie author world with a collaborator. Great! What's next?

It's time to seek out the right people. Maybe you already have someone in mind, or maybe you have no idea where to start looking.

If the latter situation applies, don't worry! There are plenty of places to look. Here are some of the best.

Indie author forums online
Relevant groups on social media platforms like Facebook
Offline avenues like local meetups or writer's groups
Indie author blogs with a contact page or other way of getting in touch
The chance to team up and work with like-minded creatives is one of the major blessings of choosing the indie author path.

Good luck finding the right partner for your next project!
Recommended